This is an easy guide on how to get involved in the Film Industry in Thailand – and I'm talking in front of the camera. There are 9 simple steps as a guideline:
1. Get Some Good Headshots / Portfolio Shots
Your face is going to sell you. To get your foot into the door of any production be it TVC, Film or TV is a good headshot of yourself. So your first step should be to get some good headshots of yourself.
A good headshot should show your natural self, best without any make up. Just the way you are, so film people can get an idea of what they can do with you.
You can get a professional headshot done at MasterClass Studio. They have a professional service there and know what is required of a actor's headshot. Just send an email to info@masterclass-studio.com to ask for more information.
2. Send Your Headshots / Portfolio To All Agents
This may seem counter-intuitive at first. Why would you send your portfolio to all agents and not just one?
In Thailand the industry works different than in other countries. Each of the agents in Thailand has a special relationship to some production companies. So if you don't send your profile to all agents you may loose out on some jobs simply because you're not being presented for the job.
3. Join Some of the Actors Facebook Pages
While there is a lot of gossip going on on the Facebook pages of the actors in Thailand, agents as well as some casting directors post jobs there. It is a good way of staying updated on what is going on.
The biggest group is definitely the Facebook Group of the Actors Association of Thailand
After that I'd recommend to join Thailand Extras, Talents, Models & Actors Community
There are several others that you can find if you look around a bit.
4. Extra, Featured Extra, Support, Main
The first 3 steps should enable you to get at least some extra jobs.
Extra jobs enable you to get a glimpse at what it is like to work on set. You're part of a crowd. You hardly get any attention, but it's good to get some experience as to what it is like to work on a set. Most likely you'll work long ours (usually a minimum of 12 hours) for a minimum wage (1500-2500 Baht). You probably sit around and wait for many hours. But that is part of what working on a set is like.
After you've done some extra jobs you're ready to work yourself up the ladder. You go to some castings and if you're lucky you'll score a featured, support or even a main part. With each step your budget, exposure and the attention you get increases. Maybe you are super talented and lucky. Maybe you score your first main part right away.
It took me 1 year of going to castings to get my first featured part. Another 6 months for my first support part and another 6 months after that for the first main.
All I'm saying is, be patient and hang on. When the time is right, you'll get the part.
5. Join Workshops
Once you scored some jobs you should start to invest in yourself. Improve yourself, your skills.
MasterClass Studio offers acting classes for children and adults of all skill levels.
Contact MasterClass Studio for more information here: info@masterclass-studio.com
or call me 0869488384 for more information.
You can also send me a message on Line: robinschroeter
Whatever skills you have you should hone them. Thai language skills can get you into Thai films or Thai Soaps (Lakorn's), acting skills can get you better paid jobs, stunt / martial art skills can get you stunt jobs. If you have the looks you can go into modelling and there are people offering modelling classes as well.
Acting Workshops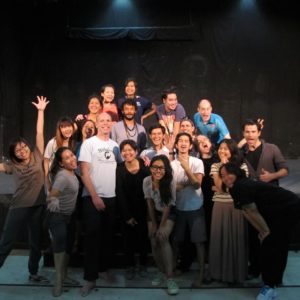 Workshops to get into the Film Industry in Thailand
Viewpoints Workshop By Stephen Webber From New York's Siti Company. Organized by Arts On Location
John Marengo
Probably best known English language local acting coach is John Marengo. John offers regular acting classes as well as private tutoring.
I joined one of his classes and I was happy with what I got. It helped me to get a better understanding of myself as an actor.
You can contact John here:
Gymlab Communications
Email: santiamriver@yahoo.com
Mobile: 08-9-934-8195
It is important for you as an actor to join different classes with different teachers to learn new techniques and then choose the ones that work for you.
Arts On Location
Arts on Location was initiated by Adjima Na Pattalung, is an organization dedicated to bringing high level drama instructors from abroad to hold 1-week acting classes in Bangkok. Adjjima organises at least 2 workshops per year and the instructors are hand-picked by herself. Every workshop I have joined has helped me improve my acting skills tremendously. the workshops are always conducted in English.
For updates about the next workshops join the Arts on Location Facebook Page
Theatre Shows and Workshops
If that is not enough I created this Facebook Page "Theatre Shows And Workshops" Don't be scared, most of the workshops posted there are in Thai.
Stunt Workshops
Ron Smoorenburg
Ron is probably the most experienced stunt man in Thailand. He started his career back in the Netherlands working on a movie with Jackie Chan. Then moved to Hong Kong and finally settled down in Thailand. He offers private classes for those who are serious about their work.
Mobile:  087 709 9844
Email: ronsmoorenburg74@gmail.com
Website: http://www.ron-smoorenburg.com
IMDB: http://www.imdb.com/name/nm0810653
6. Create a Reputation
Working on set, whether as extra or in another part, don't be mistaken, it is a job. People are watching you and how you behave. If you are being asked to be somewhere at a certain time, be there on time.
Every time you are on set is a chance for you to show people that you are willing to work. People on set are watching and will remember the way you work. The industry is much smaller than you may initally think. Everybody knows everybody and people will talk about you and how you behave on set.
You want to create a repuation of a hard worker who is able to perform.
7. Don't Be An Ass
Although this is basically an addition to Number 6, I think it's worth mentioning as separate point.
I've seen it happening many times. Once on set people start behaving their worst. All the things that momma told you not to do at home are suddenly displayed and laid out on set.
If you behave like an ass on set people will remember and people will talk about you. News will spread and you will see less jobs coming your way – unless your name is Christian Bale, of course.
Until you have reached that level, just don't be an ass. And even if you reach that level, just don't.
8. Create A Resume
In any industry it is good to keep track of what you've done. The film industry is not different. Here is an example of how your resume can look like: Acting Resume
9. Create An Acting Reel
Although it is much less important than in other countries it is a good idea to create an acting / stunt reel at some point of your career to show people what you are capable of. A reel should not be longer than 3 minutes (preferably less than that 2.30 is the standard) and remember less is more. Rather choose fewer scenes with more intense acting than trying to put all of your work into a short clip.
Here is a sample for an Acting Reel
So those are the first 9 steps to get into the Film Industry in Thailand.
Do you want to know how to become an actor / model in Thailand? Check out this video or this article How To Become an Actor in Thailand:
Do you want to learn more about me? Check out my website: http://www.robinschroeter.de